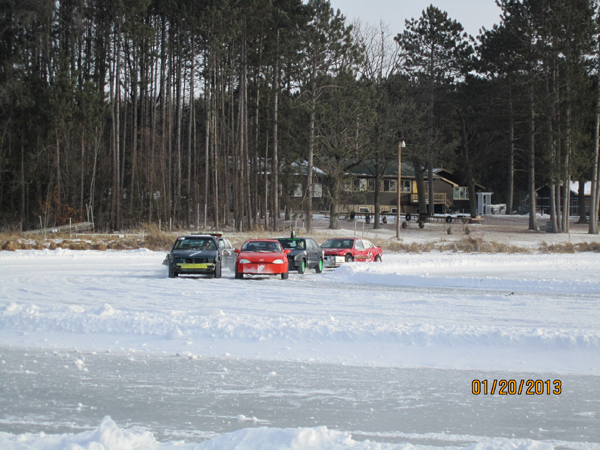 If you can do it on land, you can probably do it on ice. When you live in the Northland, you have a lot of opportunities to see just how far you can push that. Ice racing is a great example!
Ice racing starts the second Sunday in January, as long as the ice is thick enough – usually around 18 inches. The races run from noon until about 2:30pm on a groomed track right outside of Jed's Laker Lounge on Clam Lake. http://www.facebook.com/jeds.lakerlounge There are plenty of lakeside windows at Jed's, so spectators can watch from a warm environment inside the bar or get as close as track-side to watch the action.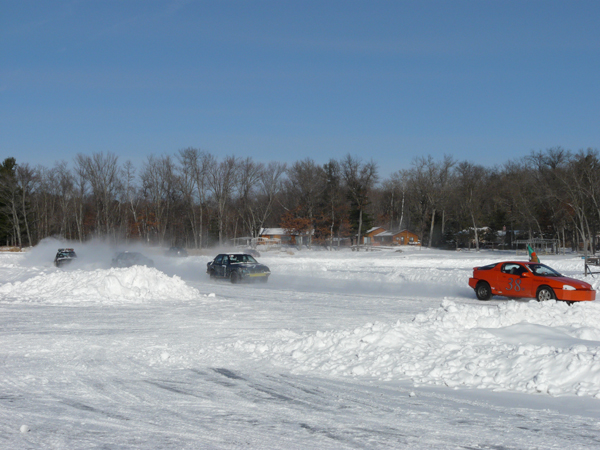 The driver's are mostly from around the local area, but some come from as far as Hudson and Rice Lake. They register the day of the race at a pre-race meeting and the rules of the "road" are mostly self-monitored. Drivers are required to sign a waiver before the race begins and their cars are inspected the first week of racing to ensure they have door bars for safety. They're also required to wear helmets and seat belts and to have a strap-in battery. Right now, there are 15-20 racers showing up each week, but in years past, there have been more.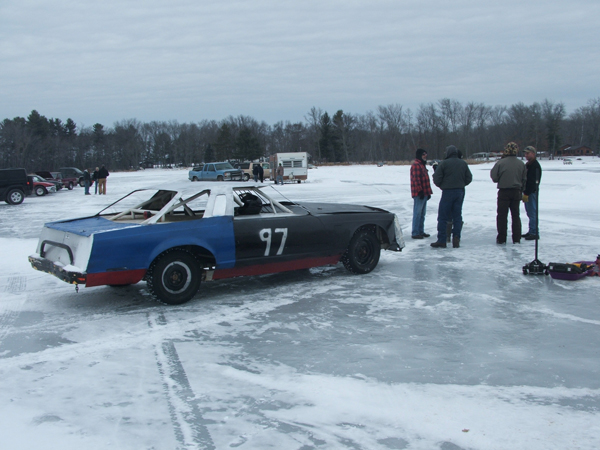 Drivers pay $12.00 a week to race and can drive whatever kind of vehicle they like. They race in any of three classes: studded tires, front-wheel drive and rear-wheel drive. The studded tires are usually handmade by drilling holes in the tires and installing snowmobile studs. The front and rear-wheel drive cars run on soft tires, a special kind of tire made with retreads out of North Carolina.
Visibility and conditions can be tough, but the racers strive to do well in the Featured Race, which is 12 laps. There are additional 8-lap heats where they can rack up points toward the end of the season standings.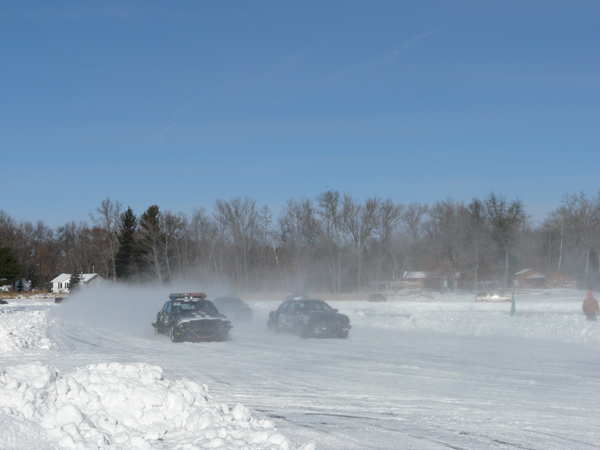 CENTURY 21 agent, Pat Duffy http://patrick-duffy.com  just got involved with ice racing this year. He became familiar with the sport as a spectator and mentioned it to a friend. The next thing he knew, his friend sourced a car and now they're on the ice. They drive a "real" race car with rear-wheel drive and a 400hp engine in the studded tire class. Duffy said his portion of the winnings so far this year have amounted to some stickers and $3.00. But he said he's having fun and will definitely keep doing it.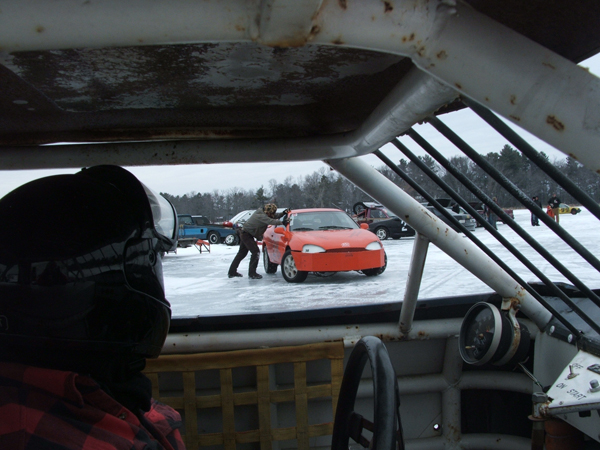 The local ice racing celebrity who seems to have the key to winning races is Mark Helene. He's a part of a family owned business, Lee's Sport and Saw in Siren http://www.leessports.biz , and has over 9 years of racing under his belt. He got into the sport because he was bored on a Sunday and thought it sounded like fun. By the looks of the shelf full of trophies in his shop, he's been having a lot of fun! He races two different vehicles in the soft tire classes and claims there is a surprising amount of traction out there. Modestly, he's not sure why he's been so successful over the years, but says that it's important to keep your eye on the flagman for the first lap. But his Dad chimed in to say that Mark does more prep work on his car than anyone else. He checks the tire pressure based on the conditions and is strategic about how he approaches the race. That…and it helps to know the flag man really well! Helene said his ideal car for ice racing is a 1994 Dodge Shadow because it has a short wheel base and gives good traction on the corners. It's no surprise that's exactly what he drives!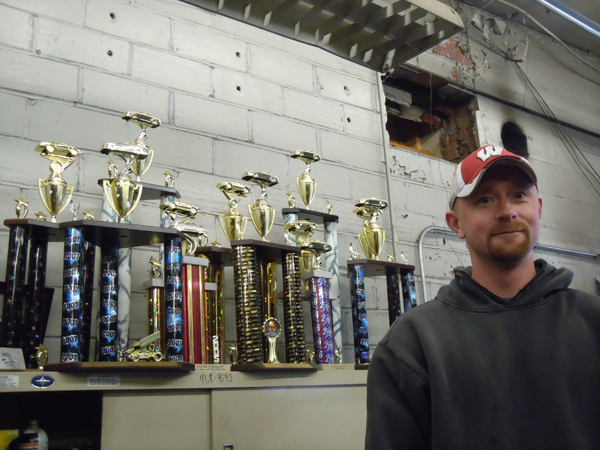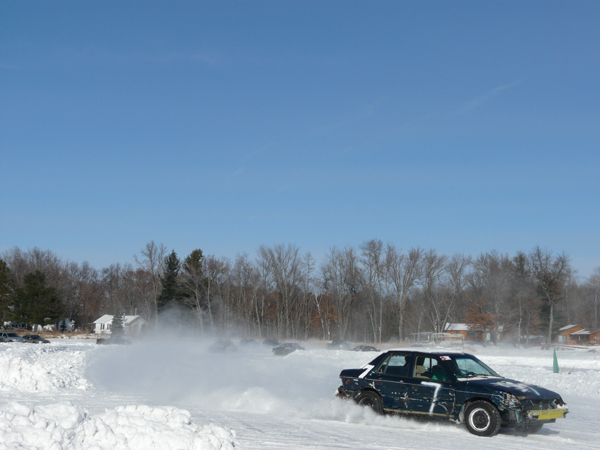 Since they're now giving out stickers to the winners instead of trophies, Helene said his son has all of his winning stickers. There just may be a second generation racer in the making! ~Wanda Boldon