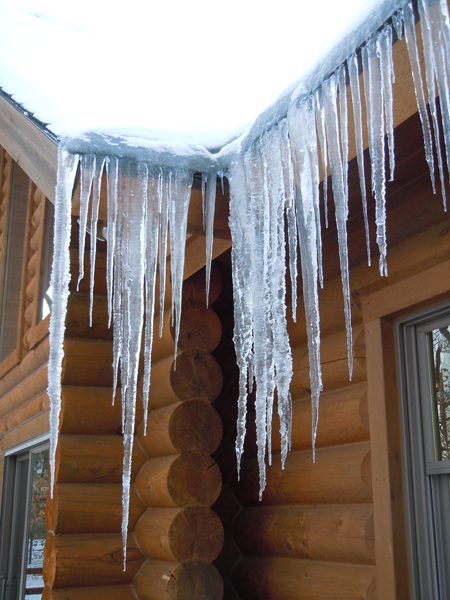 The recent cold snap has given us a chance to re-educate ourselves about living with extreme cold temperatures. We're very much used to winter weather conditions Up North and frankly, look forward to the exhilarating conditions that winter brings. But this recent stretch has been dangerous and extreme enough for schools and businesses to close. That's serious stuff!
After almost 20 years of "the good life" in the Northwoods, I've learned that being prepared is half the battle. I once had an older client who started preparing for winter right after Labor Day. She lived alone and made sure that she battened down the hatches far in advance of any threat of extreme weather. I remember commenting to her that she had plenty of time to stack wood and stage the snow shovels. She looked at me like I was cuckoo and said, "You can never be too ready." I guess the big Halloween snowstorm that took everyone by surprise in the 1990's taught a few lessons.
Dressing appropriately for the weather is important and must be done without shame. This is survival. Long underwear (or base layers) have come a long way and it's easier than ever to slip a thin layer under the skinniest of jeans. After that, if you think like a four legged animal, you can't go wrong: wool, cashmere and shearling are life savers! Wool socks (thank you Smartwool) and shearling lined boots are great for keeping your tootsies warm. Instead of wearing a cotton shirt, grab something cashmere and go for layers. Pop on a down coat with hat, scarf and mittens and you're ready to face the crunchy conditions outdoors.
If you plan to avoid the elements and stay indoors, making indoor space more comfortable is another consideration. Here it's best to think like a caveman and use some fire! A fireplace is a great way to supplement a heating system and burning wood is an economical way to get toasty without breaking the bank. Sit close to the fireplace with a blankie, a cup of your favorite warm beverage and someone who smells nice. You'll forget about the….cold? What cold? Snuggle on! ~ Wanda Boldon