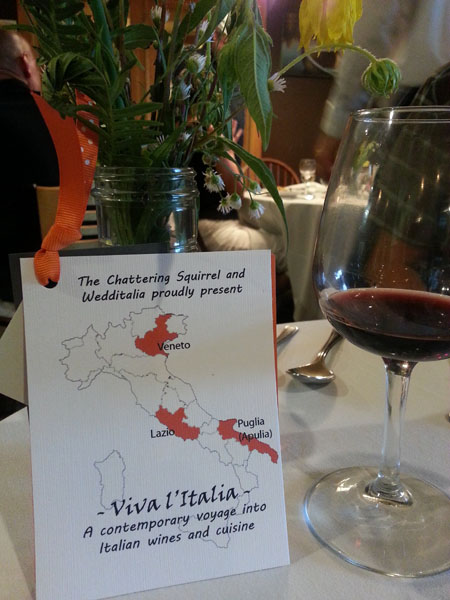 Friday night's wine dinner at the Chattering Squirrel, "A Contemporary Marriage of Italian Wines and Cuisine" was a fantastic opportunity to appreciate the fine culinary skill of their chef, Jon Dykeman. His day-to-day routine involves creating amazing lunch offerings for the Squirrel. But he really shines when you unleash him on a full blown, multi course dinner. Mercy, he's good!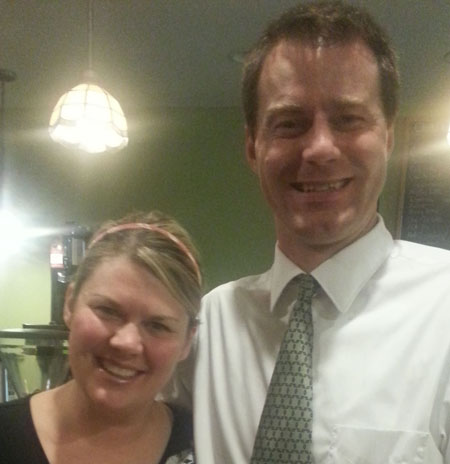 Chef Jon said, "It's a dream to work with Holly and Jake because I never feel like my hands are tied and they let me do what I do best." The Mangelsens, a dynamic duo, own and operate the Chattering Squirrel and the Acorn Pantry businesses and are always introducing new and exciting things to the food loving community. If you see someone else doing it, it's likely they did it first!
For this dinner, they brought in Italian wine enthusiast Annette Tuxon, who chose a special and diverse group of wines for each dinner course from a variety of regions in Italy. It was a particular challenge for Chef Jon, as the menu is typically chosen first and then the wines are paired, but he nailed it!
Don't cry in your soup if you missed out on this dinner. There are two upcoming wine dinners in the month of August – August 11th and the 25th. The atmosphere allows for an intimate two person dining experience as well as a group experience with a bundle of friends. Jake and Holly take advance reservations for their dinners and have your table ready for you when you arrive. You can call them at 715-349-8282 for more information.