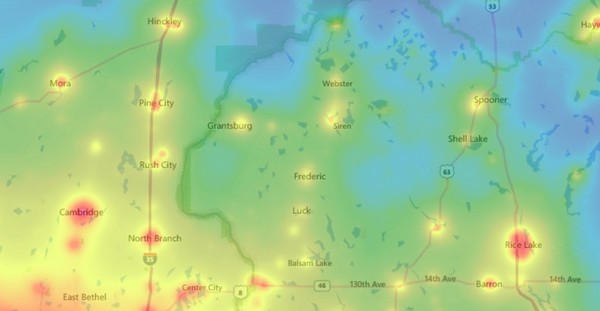 We walked out of the office at the end of the day yesterday and commented at how light it looked outside. It doesn't seem possible, but the days are getting noticeably longer! Hoorah! It's a change that's extremely exciting. Longer days and more daylight are uplifting and more productive. It's no wonder that "lightness" has long-time been associated with good and "darkness" with evil. But there is a case to be made for the benefits of the dark – especially for those of us who live in Northwestern Wisconsin.
If you live outside the ring of urban light, you have an opportunity to witness the magic of the night sky. It can be a dancing, sparkling spectacle that's mesmerizing. It doesn't happen every night, but if the sky is clear and you watch for it, you'll be rewarded. It's especially good in the winter when there are no pesky tree leaves impeding your view. (Ahem, sorry trees.) Plus now, there are numerous free apps available that help locate and identify stars and constellations while you're at it. Stargazing is one reason to vote for shorter days and longer nights!
If you're lucky enough to own a waterfront property or a property with a vista view, you also know that there is something special about looking into the night sky. There is a peaceful calm that comes from everything in clear sight being "off". There is no sense of anything coming or going, because there is no light…unless there is. Then, your peaceful calm is either impaired or taken away. Call it what you will, but we call it light pollution.
Legitimate light pollution has many ill effects on the environment as well as humans. It's a deep topic and you could say that it doesn't necessarily affect our pristine natural surrounds. But it's a slippery slope. Take a look at the light pollution map at lightpollutionmap.info to see our area and everything around us. It's a pretty dramatic depiction!
For here, regarding the enjoyment and therapy that this environment offers, all it takes is one lone light in the distance. Heaven forbid it's a neighboring light that spills in your direction or an entire suite of security lights meant to keep the bad guys away. If you have a friendly conversation with your neighbor about it, I'd be willing to bet they aren't even aware. And if you're the offender with the light, ask yourself if you might be willing to change your ways. If you come from the Tom Bodett school of "we'll keep the light on for you", try to make sure it's at least a shrouded light.
Hopefully, a little bit of enlightenment can help keep us all in the dark. ~ Wanda Boldon