My ancestors have lived in this area of Wisconsin since the late 1800s – and to this day, the tradition of hunting lives on through the generations. From black powder rifles, to bow and arrows; from deer to grouse to beavers, hunting has transcended our family from the days it was necessary to hunt for food, to the days hunting has become a treasured pastime.
My great-great-great grandfather, Hiram Ingalls, who was Charles (Pa) Ingalls' brother often escaped to the great Northwoods of Wisconsin to hunt and fish. This picture taken in 1906 in Dairyland shows the difference between hunting then and now. Then, you could shoot as many deer as you wanted. Now, there is a limit of how many deer you can shoot. But what remains the same is the brotherhood bond between hunters.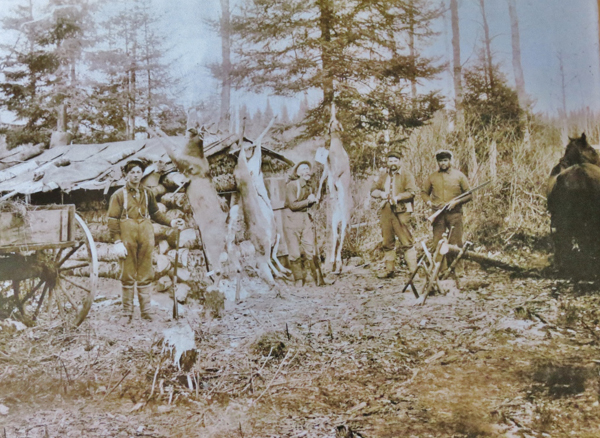 My grandpa, Bill Ingalls and his two brothers, natives to Webster, Wisconsin spent many years hunting for deer in their tree stands. I grew up hearing horrific stories meant to scare me as a child. "Did I ever tell you about the time I got these scars on my wrists?" Grandpa Bill would begin. "I was out hunting one day and a bear came toward me. I swatted at the sow with my gun, but she bit down on both my hands by my wrists. I escaped and shot the bear until it was dead." My sister and I would look at him wide-eyed, waiting for more. "And that bear is the one hanging on our wall in the basement now. But be careful – it comes alive at night sometimes." Stories, legends, tall tales have always played an important role in hunting. Without the story – what good was the expedition?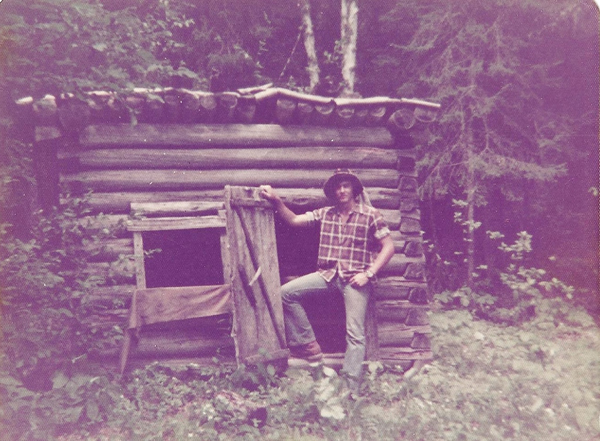 Hunting was then passed down to my father, John Ingalls, who in all seriousness wanted to be a mountain man. He trapped beavers, raccoons, and muskrats for their pelts. He ate wild turtle soup and lived off the land. There was something about the rusticity of the land, the sweat and labor that came with hunting which captured my dad. Like his great-great grandfather Hiram, like his grandfather and his father, the wild Northwoods of Wisconsin called to them.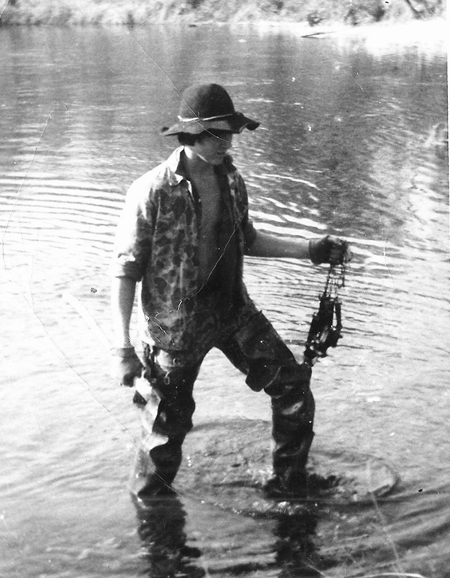 Though I never hunted, the tradition was passed down to my younger sister Billie. Her first time out in the stand as a 12-year-old, she was excited to hunt with her father. Chatting the whole time, scaring off any deer, Billie asked, "Do you think we'll see any deer dad?" My dad replied, "If we see a deer today, it will be a miracle." Minutes later, they watched as a deer quietly came into their view. Billie whispered, barely audible, "Dad, see? It's a miracle!" To this day it has been known as the miracle deer.
I, on the other hand, have countless memories of helping my dad cut and butcher the deer meat, or awing over the trophy deer hanging in a tree in our backyard, and eating my mom's famous venison stew (sorry, the recipe is top secret!)
In the end, hunting traditions are more than the 10-point buck you take home to your family. It is the stories and legends passed down, it is the traditions that have kept families and generations in the same area, it is the call of the wild in the heart of a hunter, and it is the bond between family and friends. ~Abby Ingalls